What is SD WAN?
Information that every IT Manager or IT Architect should know about Software Defined WAN.
What is Software-Defined WAN?
Software-Defined WAN (SD WAN) is a specific application of software defined networking technology which is applied to WAN connections. This technology simplifies connecting new business locations to your internal network. SD-WAN can be seen as an addition to MPLS where an open internet connection is used to connect to your WAN, without extra hardware requirements.
Garter: "SD-WAN will become mainstream technology"
Last year, Gartner recognized SD-WAN as a technique which has proven itself. Over 6,000 companies are using the technology and they advise companies to look into the technology when their WAN hardware is being renewed or when you decide to quickly increase SaaS app usage.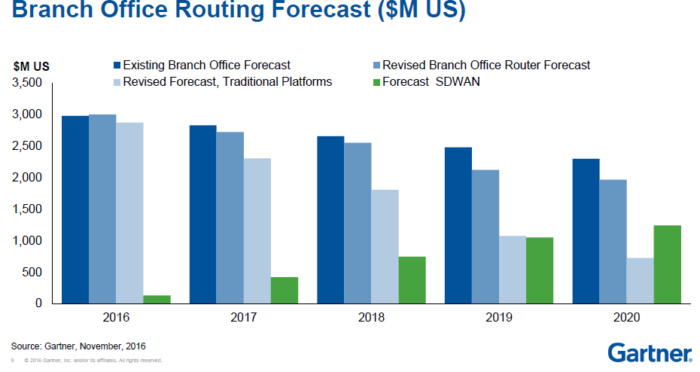 CISCO Solutions
Cisco is one of the companies with has an extensive SD-WAN product portfolio. Benefits which they claim are:
Better user experience; Implement applications faster and users experience more stable and more predictable performance.
High agility; Faster, simpler implementation and management of your WAN, using less bandwidth.
Advanced security; Multi-layer security which encrypts all data.
Cisco offers several additional solutions such as Meraki SD-WAN and Cisco iWAN which can be used to gain additional benefits.
Check out Cisco's infographic for more information
FORTIGATE
FortiGate is a alternative for Cisco which can be used to get similar results.
On their website there's a clear schedule on how SD WAN works.
Will SD-WAN replace tradiotional routers?
SD-WAN solutions appear to completely replace traditional routers (source: Networkworld).
However, there is not enough good SD-WAN hardware available in the market. Both Cisco and smaller startups offer solutions, but all of them are still searching for good, easy to use software and business models.
"SD-WAN can potentially save up to 90%. For international implementations, management of multiple carriers and technologies should not be taken lightly."
Consequences for IT management
The "Next generation" IT Management will change dramatically because hybrid and virtual solutions which become available. As an IT Manager it will be:
Easier to manage, monitor, and finetune your network
More important to increase network efficiency
Easier to improve user experience
Management and implementation of layer 2/3 network connections will, more often, be handled by external companies. Mainly because of complexity and resolving possible problems.
Want to know more?
Do you want to know more about SD-WAN and the options for your network? Mail or call us: +31(0)70-3819218.